At Sagitawa we are committed to caring for people and connecting them with Christ. Through relationships and programs that both challenge and encourage, we pursue personal growth and a deeper connection with our Creator.
Camp isn't just here for the summer! We've got programs that happen in the fall – spring!
Upcoming is Pushing the Limit, our teen camp for grades 7 – 9 on September 29 at 7:00 PM to October 1 at 2:00 PM. Cost is $120 per camper.
Teens grade 10 and older can register to join us as a SEED for the weekend. (Assisting with dishes, serving meals, and working with the cabins)
Click the button below to register
Summer 2023 , You were a blast!
Thanks to all who came and made Summer 2023 awesome! We'll see you next summer! 
-This page is now under construction for Summer 2024!-
KIDS & YOUTH CAMPS

DATES

GRADES

SHORT DESCRIPTION

$295 for Classic $310 for Outdoor Challenge, Waterfront or Performing Arts Track

$295 for Classic $310 for Outdoor Challenge, Waterfront or Performing Arts Track

$630 per camper, spend 2 weeks at camp!

This camp is built specially for teens. $295 per camper

A great first try to camp and all that it offers!

Spend just over 24 hours at camp and make some awesome memories!

$295 for Classic $310 for Outdoor Challenge, Waterfront or Performing Arts Track

$630 per camper, spend 2 weeks at camp!

$295 for Classic $310 for Outdoor Challenge, Waterfront or Performing Arts Track

A great first try to camp and all that it offers!

Spend just over 24 hours at camp and make some awesome memories!

Come Monday for supper and spend 4 awesome days enjoying epic camp activities!
Looking for more info on Adventure Trips? Click the button below the Family Camps info
FAMILY CAMPS & RETREATS

DATES

SHORT DESCRIPTION

Single Parent Family Camp

Come to our annual SPFC, a family camp designed for single parent families. $95 per family

June Family & Music Retreat

Check out a unique camp for this summer! Catch special music from local bands through the weekend, while also enjoying classic camp activities and rejuvenation. $175 per adult (13+), $75 per child (4-12) (Max charge per family = $500)

A retreat just for Pastor's and their families.

Come on out to our Annual Sagitawa Family Retreat! $175 per adult (13+), $75 per child (4-12) (Max charge per family = $500)
Come along for a week of classic camp fun! Try your hand at archery and rock climbing. Paddle around in a kayak or canoe. Take a dive into the lake. Perform some silly skits on our new outdoor stage. Create a grande work of art in the craft cabin. Explore the forest with some new camp wide games. Kids camps are our traditional camp experience, full of new experiences and challenges! Lots of laughs and new friends! 
Each camp starts with drop off at 4 PM on Sunday afternoon and ends with a BBQ for all during pick-up on Friday at 5:00.
*Grades are based by what the camper is going into during the fall
Costs: $295 per camper for classic or $310 per camper for track. A t-shirt is included in each camper's registration!
Optional: Money for the tuck shop, photo journal of the week, DVD of the week 
What do they mean?
Classic: When it comes to skill sign up, classic campers can choose from 2 skills from our whole selection of skills (archery, pelletry, rock climbing, outdoor living, canoeing, kayaking, sailing, fishing, singing, drama, puppetry, guitar, crafts).
Track: This program is for campers who are passionate about a specific area at camp. When campers do skill sign up they choose from the skills within the area of their track.  Outdoor Challenge: Rock Climbing, Archery, Pelletry, Outdoor Living. Waterfront: Sailing, Canoeing, Kayaking, Fishing. Performing Arts: Singing, Puppetry, Drama, Guitar, Crafts) 
These campers will get a skill block 3 times in the day, allowing them more time to learn about skills in their track, as well as going on a special expedition on their last night at camp with their track.
Which do I pick for my camper? 
If your camper wants to do skills in two different areas during their time at camp, then Classic is best for them. But if your campers is eager to spend the week splashing around in boats or learning about the great outdoors or really flexing that performance muscles, then Tracks might be right for them! 
Do you have a camper who has done Tracks and wants even more Waterfront fun or Outdoor Challenge excitement...? Perhaps Adventure Trips is what they need! Click the Adventure Trip button above and check out what this special program has to offer! 
Stretch it Out camps are built for campers grades 7 - 9 who just can't get enough of camp... They will spend 13 days at camp! 
During this time they'll have many chances to hone their skills in camp's many activities, play unique roles in wide games, experience a special weekend adventure, and bond together as a cabin. 
Reach out is our teen camp! 
While we do all our usual camp fun, this camp also has special events and games that you don't get in other camps! 
This camp is $295 per camper. Drop off is Sunday afternoon at 4:00 PM, with pick up the following Friday at 5:00PM with a BBQ for all! A t-shirt is included in each camper's registration!
*Grades are based by what the camper is going into during the fall
Optional: Money for the tuck shop, photo journal of the week, DVD of the week 
Starter camps offer a taste off all that camp has to offer, while also providing an extra sense of community to campers who come. Cabin groups spend much of their time together, whether that be at skill activities, playing games as a group (in games made special for this age group), or during meals.  
The end of the week is concluded with a carnival that no other camp except the Starter camps get! 
Starter camps starts with drop off at 4 PM on Sunday afternoon and ends with a BBQ for all during pick-up on Thursday at 5:00! 
*Grades are based by what the camper is going into during the fall
Costs: $245 per Starter camper.
A t-shirt is included in each camper's registration!
Optional: Money for the tuck shop, photo journal of the week, DVD of the week 
Taster camps are a great camp for campers who are hesitant about being away from home. Only 1 night on their own, while the rest of their time is filled with camp activities, a special cabin event, and the end of the week carnival! 

Taster camps starts at 2:30 PM with Drop Off on Wednesday and ends with the pick up and BBQ at 5:00 on Thursday. 
*Grades are based by what the camper is going into during the fall
Costs: $90 per Taster camper. A t-shirt is included in each camper's registration!
Optional: Money for the tuck shop, photo journal of the week, DVD of the week 
....More info coming soon! 
At all our family camps & retreats our goal is to provide the space and opportunity for you and your family to rest, rejuvenate, and connect with each other and friends. We provide opportunities for families to participate in classic camp fun, whether that be a skill area, wide games, an afternoon hike, or maybe a camp wide water fight! 
Costs specific to each camp. 
Single Parent Family Camp, June Family & Music Retreat, Sagitawa Family Retreat: Start at 7 PM Friday evening and conclude on their last day with lunch. 
Pastor Family Retreat: Begins Monday at lunch and ends Thursday at lunch.
Frequently Asked Questions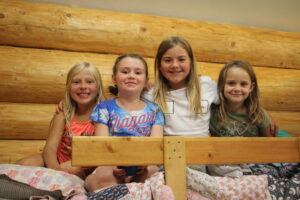 Though our camps are co-ed, the living units are not. Male leaders stay with the guy cabins and female leaders with the girls. They provide care and supervision for about 8 male and female campers respectively. These leaders work hard to help campers have a positive experience away from home. We value the trust relationship that Sagitawa has with parents, since it helps us provide a quality camp experience while keeping lines of communication open.
If you have other questions related to what its like to live in a cabin at camp, please contact the camp office.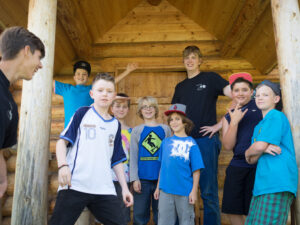 A cabin leader stays in each cabin group with the campers. The SEED assistant normally does not, except where directed to do so by the Wellness Director.
Cabin Leaders teach, lead, supervise and play with campers. Open activities are also under supervision. We desire a competent level of supervision, which at a practical level means that there should never be a stretch longer that 10 minutes. Daily events are scheduled so that a complete attendance of campers is taken 9 or 10 times a day. Campers may not be aware that staff take attendance during during meals, skills, chapel, discovery, etc. If a camper is missing, the procedure is to inform one of the directors.
Our goal is a maximum cabin leader to camper ratio of 1:8. Lower ratios occur on overnight out-trips, during daily activities, on SWAT trips, and in our Trail Ride camps.
Encouraging New Friendships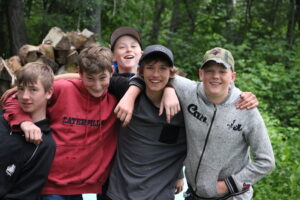 Camp is an excellent place to build new friendships. Some of our activities are done as cabin groups, while others are done as teams or by camper choice. Campers who do not end up in the same cabin, may end up eating together or taking skills, swimming and playing together. This type of schedule also fosters the development of new friendships.
Average Day at Camp Sagitawa
During the summer we take advantage of the daylight by adjusting the schedule so that campers stay up an hour later and sleep in an hour longer each morning. So after camp, you may find them a bit off the normal schedule. But camp tends to do this to a person anyway... there are just too many fun things to do.
Generally speaking, activities are 60-90 minutes in length. Regular change helps maintain interest for a healthy experience. The Track schedules will be similar but will switch Discovery time with one of the skill blocks.
Campers Rise
Breakfast
Clean cabins
Skill 1
Discovery (in cabin groups)
Lunch
Extra Skill (special tracks)
Camp Game (other campers)
WACT (Waterfront, Activities, Crafts, Tuck)
Skill 2
Supper
Wide Game
Mug Up
Chapel Fun
Prepare for bed
Lights out

Average Day on Adventure Trips
SWAT camp schedules are more relaxed than those at Moberly. Some camps have to pack up and move to another site each day, while others will return to their base camp each day. Schedules therefore vary from camp to camp. An average day will include:
Rise and Shine
Breakfast and clean up around the campfire
Break camp if on hike or canoe camp
General activity: hiking / canoeing / biking / skills
Break for Lunch
Continue with activities
Break for Discovery
Continue with activities
Set up camp if on hike or canoe camp
Supper and clean up around the campfire
Evening game
Campfire
Bedtime

We have a Tuck Shop at Moberly Lake. Campers may purchase confectionary items, t-shirts from previous years, Bibles, crafts and a few souvenirs. All items sold in our Tuck Shop are optional. We set a limit on how much junk food may be purchased in one day. If parents wish to set a different limit for their child, please inform the office or the Tuck Shop, and this will be done. It really is a simple procedure. Non-junk food alternatives are normally available.
Camp and crafts have gone hand in hand for many years. At Sagitawa, we try to provide a variety of options. We run both a craft skill during the week as well as having the craft cabin open during WACT time. During WACT there is the option of crafts using donated supplies from the craft cabin or creating a more involved craft through purchase of supplies via the Tuck Shop.
Which of the following would interest you? Paint a plaque or a picture, make something in leatherwork, make a beeswax candle, design a hemp bracelet or necklace, card embossing, or making a special window hanging. We vary our crafts from time to time and craft prices reflect the cost only.
Space is reserved by registering in advance, and a minimum deposit must accompany the registration form. Please choose from one of the options below.
Payment:
We accept cheques, Visa, MC, and cash. Cheques must be mailed or hand delivered. Credit card information may be phoned, faxed or mailed. Do not mail cash. 
You may pay the minimum deposit or the full amount up-front. Having the full amount paid before you arrive on site for drop off will make your drop off experience smoother, with more time to focus on your camper and less on the paperwork. 
Registration Form:
We use a program called CampBrain to process all of our registrations online. Do not be alarmed when you are redirected to our registration portal with them. If you have any problems or difficulties using this system, please don't hesitate to reach out to us at the office. We would be more than happy to help or we can take your registration from you verbally over the phone. 
The on-line form may be accessed by clicking the "Register Now" buttons above. 
Registration Deadline: Camp Sagitawa or Adventure Trips
We are currently accepting 80 campers per week at Moberly, and about 12-16 on Adventure Trips. Registering and sending your deposit early will boost the probability of there being a space for your camper.
Camp Sagitawa: While there is no register before date, it is wise to remember that some camps fill up by early spring. In Summer 2022 most of our camps were full by the end of June.
Adventure Trip Camps: Registration will be closed 3 days prior to each trip. This is necessary so that we can work out menus and packs.
Our office policy is to respond to each registration as it comes in. Acceptance is shown by receipt. If a camp is full you will be placed on a waitlist, and should a spot become available for your camper someone will reach out to you as soon as possible. 
Registration Deadline: Off Season
Off-season camps do not usually fill up completely. But we encourage you not to delay too long as we prefer to have a general count on who is coming about 7 days prior to the camp start date. This helps us finalize staffing, set up cabins and purchase food.
This policy may be waived in extenuating circumstances.
Cancellation 2 weeks or more prior to the start of camp - 50% of the deposit and all other fees are returned.
Cancellation within 2 weeks of the camp - the whole deposit is kept.
Cancellation after first day of camp - deposit and the remainder of fees is kept.
An 5% fee will be charged when transferring fees to other campers.
*Should drastic changes come to PHO in the future, (ie need for vaccination in children to come to camp) refunds will be given in full if your camper is no longer able to attend.
Our Sponsorship Program is designed to assist those who would otherwise be unable to attend, with payment of registration fees or a portion of them. To apply for sponsorship, please follow these steps.
Request a sponsorship form from the camp office.
Fill it out and return it to the camp office.
The form is kept confidential, and is processed case by case.
Once processed, the applicant will be notified of the amount of sponsorship available.
Sponsorships have helped many families and individuals to enjoy and benefit from attending weekend retreats, special programs and summer camps. This is made possible only through the generous gifts from individuals and groups who wish to make a difference in someone's life.
Our goal is to help campers modify their own behaviour. This means that we may need to alter our response to campers in similar situation. Note these examples of two campers who were trying to hurt another camper.
The one camper understood that his behaviour was not helping his situation. He apologized and wished he could erase what he had done. I explained the difference between forgiveness and trust. Since he wanted to earn that trust again, I gave forgiveness, and offered a practical assignment with measurable goals and accountability. I allowed this camper to complete his week of camp.
In the other situation the camper assured me that he would continue to be aggressive. Since He was unyielding, discipline was pointless. It also meant he was a constant danger to the other camper. I put him under 24 hr surveillance until the next morning when he was sent home.
Discipline may include discussions with the one wronged in the presence of appropriate camp staff. It may mean a call home or a trip home. It may involve appropriate apologies or compensations. Our first goals are to help campers succeed at camp and to provide safety for others. We believe that discipline is only effective if consistent in its goal, fair to the individual and understood.
Managing behaviour is a positive approach to discipline with a preventative objective. The idea is to provide good activities and teach positive responses so that campers learn to avoid inappropriate behaviour. Example: learn how talk about what we feel rather than just strike back to get even. Staff are taught to recognize potential problem situations early and to help campers learn how to redirect.
On the first day, two activities work towards managing behaviour. The first is a clear understanding of camp expectations and behaviour. The second is a Team Development Activity ending in a cabin debriefing that models talking about how our interactions with cabinmates in the activity made us feel.
Homesickness is a feeling of distress caused separation from family and parents. While mild cases are characterized by a longing for home, severe homesickness often includes an inability to focus on anything else. Homesickness can occur to anyone, but it is more acute for children when they are apart from family.
Prevention
Let your children be involved in the decision to go to camp.
Educate your children about the normalcy of missing home.
Do not tell your children that you will miss them terribly. If they think you cannot cope, then neither will they.
Do not plan for failure by telling your children that if they cannot make it at camp, that you will come get them.
Do not express any anxieties about camp in front of your children. Share positive research with your children!
Encourage your children to make new friends and to seek the support of trusted adults.
Consider attending as a volunteer staff the first year, or attend as a family at our Family Retreat.
Provide shorter practice times away from home. Give positive feedback.
Encourage letter writing as a means of communication. It is tougher on the phone.
If encouraging phone calls, provide a pre-paid calling card and a request to call after supper, not before bed.
Use a calendar to cross out the days, and provide perspective as to how a week is compared to a year.
Provide other coping instructions. (good ideas here)
Treatment - Coping Strategies for Children
Have fun playing with friends to distract yourself from the feelings.
Write a letter or look at a family picture to maintain connections with home.
Talk with someone who knows how to help you feel better.
Think about all the good things that you would miss if you went home.
Remember that your time away is actually pretty short compared to the time you are at home.
Try to forget about homesickness.
What might your family say to help if they were here.
(notes from http://pediatrics.aappublications.org. See site for longer list)
Applicants must follow the following selection process prior to becoming staff at either Camp Sagitawa or in our Wilderness Adventure Trips.
Cabin Leaders must have graduated from grade 12 (or age equivalent). Leadership staff are generally 20 or older. Staff are required to relate well to children and youth and should show a desire to be involved in a self-giving ministry. They must demonstrate a high level of responsibility and integrity.
Required Steps within the Application Process:
Submission of a completed Camp Sagitawa Application.
Submission of at least 2 adult references (prefer 3).
Personal interview with the applicant.
Prayerful consideration of each application.
Proof of having no prior criminal convictions or arrests with respect to children.
Acceptance to our June Training Camp.
Successful completion of this training.
Leadership Staff train and prepare for 5 weeks, followed by a 3 week June Training Camp. Seeds work through a shorter training program.
Being on camp staff is demanding and we expect a high level of commitment from our staff. We have a strong team training dynamic based on relationship which provides the basis for much of our work with campers and cabin groups.
We desire success for each camper, and provide training in many areas including:
Caring for Camper Needs
Behaviour Management
Appropriate Discipline
Dealing with Homesickness
Anger Management
Dealing with Bullying
Risk Management
Communication Techniques
Challenge by Choice in skills
Free Choice in matters of Faith
Criminal Record Clearance
All applicants (Staff, Seed) are required to apply to the RCMP for a Criminal Record Clearance. We are most concerned about convictions or arrests that relate to child abuse. We recognize that these screens do not prove innocence or guilt, and entirely miss individuals who have not yet been arrested. For this reason we also rely on personal references for information in this area.
How does a criminal record check work?
Record searches return either of two results.
"No record exists!" - conclusive and requires no further search.
"A record may or may not exist!" - a record has been found for someone of a similar name and birthdate. Proof of identity requires a comparison of fingerprints.
Matching prints would produce a copy of the criminal record. In the case of a young offfender, the copy is mailed only to the individual. This applicant may choose to forward it to us. Sagitawa will not accept a staff member who would choose not to forward it. Our concern is that maximum care be provided, and that we give no opportunity for campers to be abused in any way.